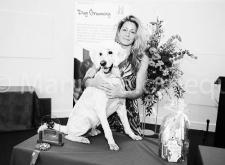 Louise Wood

(35)
Spotlight Registered: 13 April 2018
Email: Info@dirtypawsgrooming.co.uk
Booking Line: 07506467218
About me
My grooming salon is situated in the idealic village of Mayfield East Sussex, I offer a bespoke dog grooming service where your dog's well being and happiness are at the heart of what I do.

I have been infatuated with dogs since I was a small child when I was bought my first dog breed book. Unfortunately, I couldn't have a dog at home, so I began to walk and look after all the neighbour's dogs as a way to compensate and fulfill my own aspirations.

I, then, was employed in my first grooming role in Greenwich, London at the age of 17 as an apprentice after leaving school.

Whilst having a family I experienced a break in my grooming career but returned back to dog walking in 2005 and set up a small local business in Tunbridge Wells.

This being a success evolved into grooming the dogs I walked, and as a result of positive customer feedback attracted more grooming clientele.

I, therefore, made the conscious decision in 2014 to return back to college, retrain and undertake my City and Guilds level 2 qualification at Hadlow where I won most promising student at the Inter college south competition. I furthered my education and went on to take my City and Guilds level 3 intro at Gillsman dog grooming and training under Nikki Scott in Hastings. I am now proud to say that in March 2018 I completed my Diploma qualification.

I am committed to my own professional development and regularly attend seminars to ensure I am up date with new techniques and practices. Additionally, I am pet first aid trained, a member of the British dog grooming association and Pet Industry Federation.
Reviews
Photos
Achievements
May 2018

Julie Lalou (groom Team Rngland) Dogs Delight Seminar

March 2018

Jade Elm Cooper Epic Prep seminar

June 2017

Amy Manser Just 4 Paws Everyday grooming seminar

February 2017

HBritish dog groomers association Hadlow Seminars

April 2018

Amy Manser Just 4 Paws seminar

2018 march

City and guilds level 3 Diploma for Professional Dog Stylist

2018 june

Placed 1st in experienced clip class at the English Groomers Challenge competition.

2016 October

City and guilds level 3 in introductory dog grooming

2014 August

City and guilds level 2 for dog grooming assistants

2014

Winner of Most promising student south inter college competition
Find me on the map