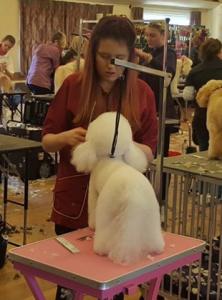 Abigail Moore

(5)
Professional, fully qualified dog grooming stylist. Launching new salon soon.
Spotlight Registered: 15 February 2020
Email:
Booking Line:


The Signature Stylist Dog Grooming Salon. Launching Soon.


6 years




About me
I began my journey to becoming a fully qualified dog grooming stylist as an apprentice dog groomer with Solihull college.This opened my doorway into the grooming world. Dog grooming was fascinating to me!
Half was through my apprenticeship I brought my first puppy, and met my best friend, Buddy the Toy Poodle. But who could just leave it at a puppy? Not me! I also came back with my then baby horse Harry! These two would then go on to become my world.
After my apprenticeship had finished I gained another grooming job at a commercial grooming salon which taught me so much more about the industry itself and enabled me to a wider range of dog breeds in which to practice my breed cuts. My favorite breeds to groom being anything wool coated! It was great to be working with other groomers and to be able to gain more skills from one another and be part of a team.
It was at this point I entered my first dog grooming competition with a lovely Bichon Frise called Gracie. Gracie behaved incredibly for me and we came 2ND place.
A few years later I then decided to do my level 2 and 3 city and guilds. I did this with Summit Training Center.
Upon completing my level 3 I knew the time was right to spread my wings and fly the coop! Which is why I am now in the middle of launching my own dog grooming salon -The Signature Stylist-Professional Dog Groomers- A salon that will use (where possible) all-natural ingredients, vegan and cruelty free products. A salon that will treat every dog like the individual they are and above all else keeps the dogs health, well-being and safety a main priority. I am also pet first aid trained with Animal Love.
At The Signature Stylist I will work with both owners and their dogs to create a tailored style to suit the dogs specific needs and requirements. No matter what you have come in for be it a nail trim or a full groom every dog will be treated with the same time and dedication. No dog will ever be rushed.
As well as being a dog grooming stylist I am also trained in Reiki to Level 2 making me a Reiki Practioner. Reiki can be used during the grooming process to help calm and relax nervous dogs.
Continual personal development is something that is incredibly important to me and as a result I regularly attend as many seminars, trade events and grooming specific days as I can to help keep me fully up to date with all things grooming and pet related. I am constantly brushing up on my skills and my next goal is to compete at another dog grooming competition.
Photos
Achievements
2020/02

Level 3 City and Guilds Diploma In Dog Grooming

2020/01

Level 2 Reiki

2019/09

Level 1 Reiki

2019/07

Canine First Aid

2019/06

Level 2 Certificate For Dog Grooming Assistants

2016

Came 2nd place in the rookie challenge dog grooming competition
Find me on the map
Comments