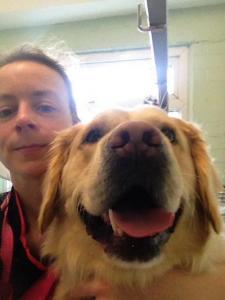 Heather Nicholls

(1)
Spotlight Registered: 16 March 2017
Email: info@beautybehaviour.co.uk
Booking Line: 01460 221674 / 07943 954395
About me
I've worked with dogs since I was 15yrs old, in kennels and as a dog warden amongst other things and gained my qualifications as a groomer 25 years ago, I have been working as a groomer since then. I started running my own successful business from home over 13yrs ago.
I have always attended courses and seminars on a range of dog subjects from dog law, grooming, all aspects of showing and also behaviour, 8 years ago I attended a day course from an amazing behaviourist and I have been studying canine behaviour ever since and have achieved a number qualifications in this area, including a level 5 IMDTB behaviour qualification. I now run 1 to 1 behaviour and training advice along side my grooming business.
I have 3 Siberian huskies 2 are rescue and 1 I have done a little showing with, I'm also on the Siberian Husky Club of Great Britain judges list.
Reviews
Photos
Achievements
30 December 2017

The School of Canine Science Puppy Lab certificate

2020/03

IMDTB Level 5 Application & Analysis in canine behaviour

2017

Canine Coaching Diploma level 3

2017

Dog behaviour & training course

2017

Dog first aid emergency canine care

2016

Dog handling & bite prevention OCN level 3

2014

Kennel club points of the dog assessment

2014

Kennel club requirements of a dog show judge

2013

Kennel club ring stewarding

2013

Kennel club conformation & movement

2007

Barbara Skye's Thinking like Canines workshop

2004

City & Guilds level 1 Hairdressing

2004

City & Guilds level 2 Hairdressing

1st September 2017

IMDTB Analysis & Application level 4 canine behaviour

1998

Hills pet nutrition counsellor programme

1997

DeZynadog Grooming for a living seminar

1996

City & Guilds Dog Grooming 7750

14th August 2017

Animal healing certificate

10/11 November 2017

IMDT 2 day career as a dog trainer certificate
Find me on the map