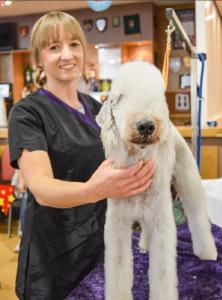 Gemma Langford

(7)
Spotlight Registered: 22 February 2018
Email: Gemmaatashgate@gmail.com
Booking Line: 01460 281528


Gemma At Ashgate


Since 2013




About me
I am an Independent Senior Groomer and Tutor based at Ashgate Grooming and Kennels, just outside of Taunton.
I am trained to a high standard and enjoy grooming all breeds of dogs, ensuring that their needs and the owner requirements are met at all times.
I have always had a love for animals, especially dogs. My journey and love for Dog Grooming started after I completed my BTEC Level 3 Extended Diploma in Animal Management in May 2013. On starting the course I wasn't sure what sector of the animal industry I wanted to move forward in. After meeting a sweet little Pomeranian during our dog grooming unit on the course I was hooked and new that this was what I wanted to do.
June 2013 I started the 30 day course City and Guilds Level 3 Certificates in Introductory Dog Grooming at KD Grooming Studio. On completion I worked part time grooming and at a Dental Laboratory.
Early 2016 I found myself going self employed, renting a table at a fast pace Groomers. Whilst doing so I had to quickly adapt and refresh my skills to keep up with the demand from clients to ensure that they were 100% satisfied, here my love for grooming grew.
I was keen to develop my education and skills so from July 2016-April 2017 I completed my City and Guilds Level 3 Diploma for Professional Dog Stylist. In October 2016 I completed my first Canine First Aid Course, which was aimed at Dog Groomers, covering possible situations that could occur during grooming.
January 2017 I took a part time position at a College as an Learning Support Co-ordinator (LSC) for Dog Grooming. I undertook the role to help teach the students the joy of dog grooming and to pass on my experiences and knowledge. In May 2017 I took on a full time position at KD Grooming Studio as a Senior Groomer and Teaching assistant.
In June 2017 I entered my first dog grooming competition with a Miniature Schnauzer at the English Groomers Challenge. I have to say, I've now caught the competing bug!
I have now competed at various shows including BDGC, Premier groom, Supergroom and The English Groomers Challenge. I placed 1st with a Bedlington terrier in the experienced purebred scissor class at the EGC 2018 with it only being my first time fully scissoring a Bedlington, I was overjoyed with this placement!
I plan to continue to compete, developing my own skills, in order to continue to place at future competitions and further my skills in preparation for my Higher Diploma exams.
In July 2018 I completed a BTEC Level 3 Award in Education and Training which has opened my eyes to various ways of teaching and how to adapt to each individual.
In 2019 I ventured off as an Independent Groomer to start my own Business. 2020 Gemma at Ashgate (training academy) has been launched and we pride ourselves on the quality training we give our students. I push myself with my own learning and development to further my education by attending seminars, workshops, and competing in dog grooming competitions. By doing so I feel I will keep up to date with the forever growing industry and ensure your pooch has the best experience and also to ensure my students receive the best training. I am currently preparing for the Higher Diploma in Dog Grooming exams.
Reviews
Photos
Achievements
2018 July

Pearson BTEC Level 3 Award in Education and Training

2017 April

City and Guilds Level 3 Diploma for Professional Dog Stylists

2016 October

Canine First Aid Certificate

2014 August

City and Guilds Level 3 Certificate in Introductory Dog Grooming

2013 July

Edexcel BTEC Level 3 Extended Diploma in Animal Management
Find me on the map