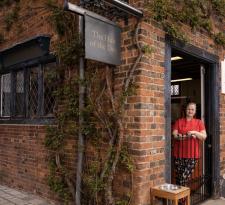 Linda Stone

(9)
Spotlight Registered: 20 March 2017
Email: thehairofthedog1@gmail.com
Booking Line: 01707707450
About me
I have been grooming for over 15 years and to me grooming is a never ending learning process.
I have successfully shown my 2 Russian black terriers a mini schnauzer and a mini poodle and taken them all to Crufts since 2010 till now 2021 being place every year, which I am very proud of.
I was very lucky in being offered a job at Oakland's College as assistant groomer in September 2010.
I then went on to take over the teaching role of the level 2 City and Guilds qualification, and in 2013 started the level 3 qualification at Oakland's College. I am very proud of what I built at Oakland's College and thank them for the opportunities they have given me.
I am now moving on to open my own grooming salon and teaching school to provide a quality area for up and coming groomers to learn in I will only be having 2 learners at a time. I will be teaching Level 2 and level 3 city & guilds. Course days can be to suit the learner please call me for more information.
I started grooming competitions 2 years ago and have been placed many times .
I am working towards my level 4 in dog grooming and happy to keep learning.
Reviews
Photos
Achievements
2018

The Grooming Show 3rd Small Poodle

2018

The Grooming Show 3rd Small Poodle

2017

The Grooming Show 2nd Purebreed

2017

The Grooming Show special Award

2017

Premier Groom Gold Place PureBred Scissor

2017

British Dog Grooming Championship 1st Purebred Scissor

2017

Premier Groom Silver Handstrip

2017

*Premier Groom* *Premier Groomer Of The Year Winner*

2016

British Dog Grooming Championship special award best presentation

2016

British Dog Grooming Championship 1st Handstrip

2016

British Dog Grooming Championship Experienced Groomer Winner

2016

The Grooming Show 3rd Handstrip

2016

Mastergroom 3rd Purebred Scissor

2016

The Grooming Show 1st Purebred Scissor

2015

English Groomers Challenge Handstrip 2nd

2015

English Groomers Challenge Scissor Second place

2015

British Dog Grooming Championship Purebred Scissor 3rd place

2015

Premier Groom Gold Place Spaniel and Setter

2014

Level 3 diploma
Find me on the map