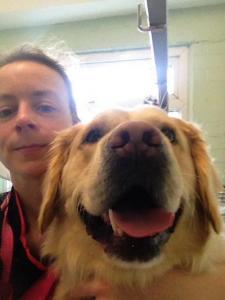 Heather Nicholls
(1)
Phone: 01460 221674
Email:
Booking Line: 01460 221674
About me
I've worked with dogs since I was 15yrs old, in kennels and as a dog warden amongst other things and got my qualifications as a groomer 20yrs ago, I have been working as a groomer since then. I started running my own successful business from home 8 yrs ago.
I have always attended courses and seminars on a range of subjects from dog law, grooming, all aspects of showing and also behaviour, 3 yrs ago I attended a day course from an amazing behaviourist and I have been studying canine behaviour with him ever since and I'm hoping to start running puppy parties and basic training classes along side my grooming business in the very near future.
I have 3 Siberian huskies 2 are rescue and 1 I have done a little showing with, I'm also on the Siberian Husky Club of Great Britain judges list.
Photos
Achievements
2017

Canine Coaching Diploma level 3

2017

Dog behaviour & training course

2017

Dog first aid emergency canine care

2016

Dog handling & bite prevention OCN level 3

2014

Kennel club points of the dog assessment

2014

Kennel club requirements of a dog show judge

2013

Kennel club ring stewarding

2013

Kennel club conformation & movement

2007

Barbara Skye's Thinking like Canines workshop

2004

City & Guilds level 1 Hairdressing

2004

City & Guilds level 2 Hairdressing

1998

Hills pet nutrition counsellor programme

1997

DeZynadog Grooming for a living seminar

1996

City & Guilds Dog Grooming 7750
Comments